Drumgrange's Security Systems Teams provides consultancy, design, development, manufacture and integration services for specialist areas of video capture and analysis, covert audio recording as well as Acoustic Hailing Devices in conjunction with our partners. We offer bespoke and customised equipment designs and solutions to support Infrastructure, Security, Land and Naval requirements.
Drumgrange provides discreet solutions to classified users by the development of deployable solutions for Video and Audio Collection and Analysis. We can provide covert devices to authorised buyers. Drumgrange has a full expertise in Radio Transmissions and will source suitable radio products to meet the needs of the user community. Similarly, as Drumgrange does not develop its own cameras, it has a bias-free selection policy from UK and overseas supplies when necessary.
By combining our extensive maritime knowledge with exceptional sound quality, Drumgrange has produced a fully marinised, highly flexible long range Acoustic Hailing Device (AHD).
The AHD family allows security users to intelligibly communicate at great distances both on land and at sea, making it the ideal communicator to personnel, vehicles and ships to hail, warn and establish secure areas.
All AHD units can be mounted on a Mast or vehicle, with a variety of mounting options available:​
No modification to host platform
Standardised mounting to enable fast deployment
Flexible mounting arrangements for auxiliary equipment
            2 Horn AHD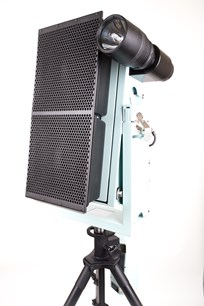 The product range consists of:
4 Horn Device   
A fully marinised, highly flexible, long range Acoustic Hailing Device with an effective voice communications range of 1,500m. The device's unique modular construction allows this system to be removed from its case, assembled and fully functional less than 15 minutes with just one operator.
2 Horn Device   
A variant of the 4 Horn device, the 2 Horn AHD has an effective communications range of up to 1,000m over loud background noise.
Remote Control AHD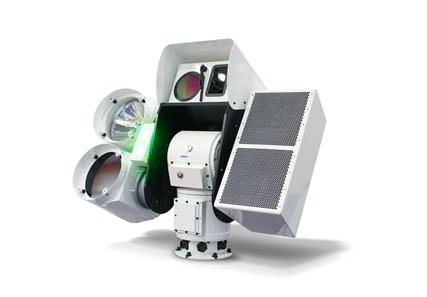 A remotely operated Acoustic Hailing Device (RCAHD) designed for manned or unmanned installations, for example from a Ship's bridge or Security Control Centre through a Wireless Link. The dual horn design offers a perfect compromise of weight, size, power and performance providing a solution for small to medium sized platforms.  The RCAHD is capable of providing intelligible communications, using either live or pre-recorded speech, up to a range of 1500m. One example is that this platform has been installed on infrastructure such as remotely-monitored oil platforms. 
Please download our datasheets to find out more information, including technical specifications. 
If you have any other questions, please contact us at info@drumgrange.com.