The ability of VLF and LF radio transmissions to penetrate seawater allows submerged submarines to receive strategic and tactical communications. Drumgrange has been actively involved in VLF Submarine Broadcast Communications since the late 1980s having developed bespoke items of equipment that span the entire VLF communications chain from headquarters, transmitter sites to the submarine platforms at sea. We continue to support, refine and refresh those systems through long term contracts with National Governments, NATO and Prime Contractors.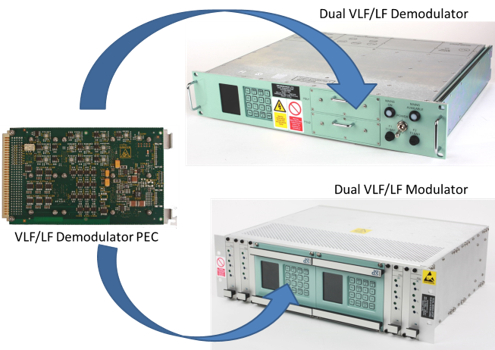 All of our current systems have been developed to be compliant with NATO STANAG 5030 Edition 4 and our newly-developed products capable of implementing the newly ratified NATO STANAG AComP 4724.
To aid system development, Drumgrange has developed a sophisticated numerical (Matlab/Simulink) modelling environment to support link budget estimation, Sea Water penetration predictions and overall system performance analysis.
We work closely with the National Cyber Security Centre (NCSC), the UK Government's national technical authority for information assurance, during the development and security accreditation of high grade devices required within these programmes.
Drumgrange has continued its heritage within the VLF domain by recently being awarded three major contracts for the replacement of the UK VLF infrastructure for partial STANAG 4724 compliance, Submarine borne dual demodulator equipment and most recently NATO replacement STANAG 5030/4724 modulators, demodulators and integrated OTAM.  
Drumgrange is recognised within the MoD and the wider community as having significant VLF technical expertise and is the Design Authority for many of the VLF Sub-System components.
For more information please visit our VLF/LF Communication product page. 
Please download our datasheets for more information, including technical specifications.
If you have any other questions, please contact us at info@drumgrange.com.