The Drumgrange Underwater Systems specialists provide consultancy, design, development, manufacture and integration services for specialist areas of sonar, signature management and other underwater military electronic systems where high performance and high levels of reliability are mandatory. We offer bespoke and customised equipment designs and solutions to support submarine, surface ship, underwater vehicles, mine warfare and military diver operations.
Our engineers are highly experienced in the principles of theoretical modelling and practical aspects of underwater acoustics including signal processing, algorithm development, system design and calibration. Our people, combined with our facilities, enable algorithmic design solutions from initial research, through modelling and demonstration and sea trials through to successful implementation within the end product.
Drumgrange has fully embraced the principles of open architecture systems combining the through life support advantages of high performance COTS processing and networking hardware with open architecture software. Software is developed to allow rapid integration with modern sonar and combat systems allowing for easy algorithm insertion and upgrade paths.
In addition, Drumgrange has extensive experience of providing in-service support including platform installation and setting to work, service and repair, contractor logistic support (CLS), post-design services, documentation and safety management coupled with specialist facilities to support sonar trials, static/underway calibration and sonar recording for data analysis.
The Underwater Systems product range can be sub-categorised into the following:
Active Intercept Sonar
Drumgrange has developed a series of high performance wideband Intercept Sonar Processors. Our particular expertise is Active Intercept (AI) and high frequency passive sonar sub-systems where our products are in-service with the Royal Navy.
We can provide a complete hardware and/or software systems using single arrays or multi-site architectures covering low to very high frequencies. All  of our solutions are fully digitised, enabling easy integration within an integrated sonar suite by a third party.
Our Active Intercept solution was selected by Lockheed Martin for integration in the Sonar 2054 Inboard Replacement, S2054(IR) Programme for the UK's SSBN submarines. Drumgrange's comprehensive Intercept solution has been fully embedded within the S2054(IR) open architecture system onboard the Vanguard Class submarines.
Equipment & Software Development
 Drumgrange specialises in the development of equipment and software for underwater systems. These include:
Stand-alone hardware/software solutions
Data acquisition sub-systems
Integrated software solutions
Test equipment & Stimulators (STTE)
Common Infrastructure
High Frequency Passive Surveillance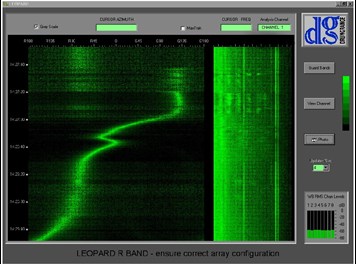 The HF passive surveillance provides a capability beyond the upper frequencies of most passive systems currently in service and a robust method of counter detection of low probability of intercept (LPI) transmissions. The sonar uses a narrow-band technique that responds to the spatial structure of received sonar wavefronts.
The signal processing algorithm gives full 360 degree azimuth cover, and practically eliminates the side-lobe 'spokes' that are traditionally associated with this class of sonar. This intercept surveillance capability provides a platform with an improved capability to maintain a detection range advantage, over other assets or platforms engaged in an active search, allowing the platform to remain covert. 
This high sensitivity, high frequency passive sonar can be interfaced with existing sonar arrays or new array configurations. 
Mine Warfare Command Support System
This PC-based Mission Planning and Assessment system provides the Royal Navy's Mine Warfare Forces with all the necessary tools for safe, effective and efficient minehunting, minesweeping and clearance diving. Available as a stand-alone or network application suite, both Office PC and ruggedised deployable PC hardware can be supplied.
Research & Development Programmes 
Drumgrange is a contributor to the UK MoD Underwater Sensing Research Programme and is a member of the Community of Interest (Team Rhodos) for Dstl's Progeny Maritime Research Framework. Progeny enables Science and Technology (S&T) suppliers to support current and future maritime research projects, helping to design and develop the next generation of UK maritime technology.
We have a highly capable sonar modelling and simulation capability to support algorithm development and system performance modelling using simulated or recorded data. Drumgrange also conducts research & development activities and technical studies for Dstl, DE&S and other industrial partners and system integrators.
Sea Trials Support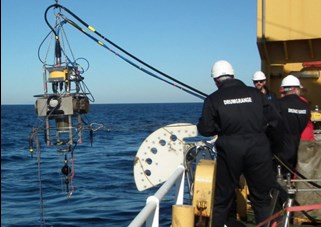 Our experienced Trials teams regularly organise and support equipment trials and naval exercises including surface ships, submarines and other underwater assets. Drumgrange's expertise covers all aspects of managing a successful sea trial, including:
Arranging trials vessels
Overseas logistics
Safety management
Equipment Installation and commissioning
Operation and deployment of equipment 
System analysis/acceptance
Signature Management  
Drumgrange can provide a range of Signature Monitoring Systems (SMS) for organically monitoring the radiated acoustic emissions of Warships and Submarines. Our SMS has been developed as a stand-alone system with a PC based operator work station, however we can offer an alternative arrangement whereby the software application is embedded within the platform's existing Sonar or Combat system. 
Within the system, the transducers comprise arrays of hull internally mounted accelerometers and external hydrophones which can be populated throughout the platform, or isolated to particular areas to provide real-time radiated noise estimates and to aid the localisation of noise sources. 
Drumgrange has developed the Technical Refresh (TR) for the Royal Navy's Hull Vibration Monitoring Equipment (HVME) to provide a comprehensive vibration monitoring and investigation capability used by the ship's staff to monitor the platform's acoustic signature. The front-end digitisation units comprise low noise/power sensor signal conditioning, 24 bit analogue to digital conversion and an embedded processor and network interface.
This system is installed on Royal Navy's existing Type 23 Frigates, submarines and Mine Counter measures vessels for which Drumgrange is providing a 10-years support under a Contract for Availability.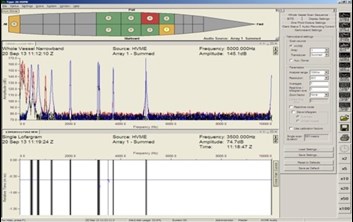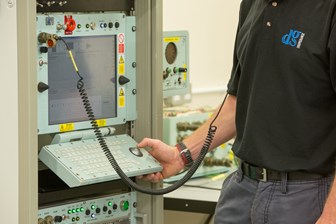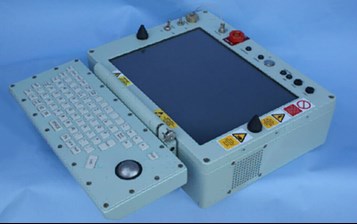 Hull Vibration Movement Equipment (HVME)
Sonar Calibration
Drumgrange maintains a MoD-owned, containerised, portable sonar calibration laboratory which can be readily deployed on a trials ship to support submarine and warship exercises. The laboratory has a range of static and towed sound sources and acoustic measurement systems covering acoustic signals from a few Hz up to hundreds of kHz. Other discrete calibration systems for harbour and enclosed water calibration are also available.
Our Portland site includes a 27,000 gallon (120,000 litre) tank facility for the functional testing of hydrophones, projectors and sonar systems.  
Sonar Simulators
Drumgrange has provided a range of sonar simulators and stimulators to aid system development and acceptance for Sonar systems including S2051, S2054(IR), S2019 and S2076.
Our latest MaxSIM portable stimulator provides real-time simulated data feeds into the sonar processor; two systems are currently in use by Primes including Thales Underwater Systems to aid testing of the S2076 intercept system.
Please download our datasheets for more information, including technical specifications.
If you have any other questions, please contact us at info@drumgrange.com.