Vehicle Systems Integration
Agile and flexible with proven capability in Special Projects, the Vehicle Systems Integration team at Drumgrange specialises in the integration of Shared Situational Awareness (SSA) systems, secure communications (V/UHF, SATCOM), GPS and Iridium navigation/tracking for landing crafts, combat support platforms and land-based vehicles.
Drumgrange has a successful system integration heritage both in the Maritime and Land domain. Some Land projects include:
Deployable Theatre Information Operations Capability
Vehicle C4ISR Systems
Shared Situational Awareness (SSA) Systems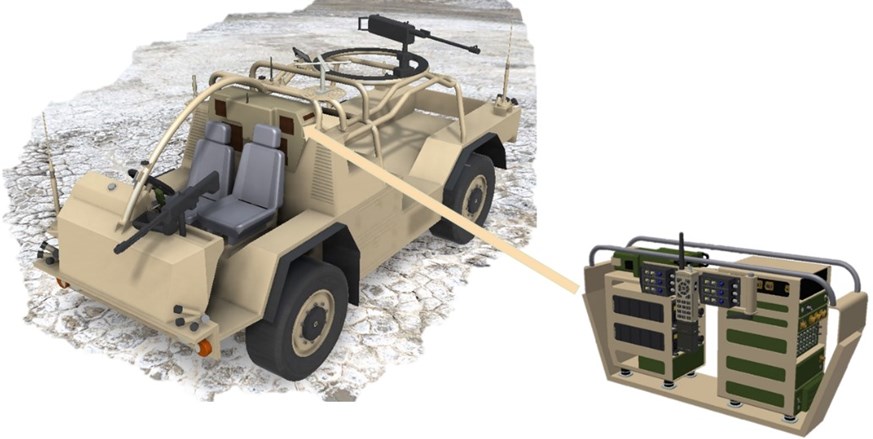 Core to any solution is the selection of power and data hubs, End User Devices, inter-connectivity and radio communications equipment. Being an agnostic systems integrator allows a wide range of MOTs and COTs devices to be accessed for suitability prior to final selection. Drumgrange is known to provide the best of breed solutions selecting equipment tailored to specific platform, User and performance requirements.
In addition, the Vehicle Integration team supports the integration of situational awareness systems on defence and security campaigns to aid the safe operation between HQ Centres and the vehicle platforms. Our site facilities have certified cryptographic custodians to manage the crypto equipment including hardware and key material, required to conduct such work.
Some key features can include:
Shared Situational Awareness (SSA)
Tactical Data Link for Inter-operability within Land, Maritime and Air Assets
Remote and secure voice communications (LOS and BLOS)
Rugged IT Systems
Secure Encryption
IP68 Interfacing Cables and Connections
Specific design expertise for small craft has been developed by Drumgrange covering complex military and IMO regulations including EMC, Tempest and RadHaz to Def Stan 59-411, environmental and human factors issues, security accreditation and shock & vibration.
Vehicle WOF System
The scalable, pan-domain, secure C4ISR system has various stages of concept, including:
Deployable forward operating base
Integrated permanent vehicle fit
'Walk on Fit' (WOF)
Dismounted operatives (man-pack variants)
These systems have been developed for fast deployment both on and off (for man pack operation) a wide range of platforms and ruggedised for use within harsh environments. Drumgrange specialises in integrating MOTS, COTS and bespoke equipment providing scalable SSA and C2 solutions. Some key design considerations include interoperability, SWaP, Open Architectures and standards (GVA/GSA) and compliance with EMC and Environmental Military Standards.
The ideal situation to use these systems includes:
Surveillance and reconnaissance
Training and simulation
Counter insurgency
Maritime Interception
Security 
First Responder