Training and Simulation Systems
Drumgrange has a wide range of experience in the development of Training and Simulation Systems for the defence industry from Computer Based Training (CBT) Systems and Equipment Simulators to fully integrated Live, Virtual and Constructive (LVC) Systems. Drumgrange can provide cost-effective Training and Simulation Systems based on an in-depth understanding of your training needs and actively promotes early user interaction in the design and development process.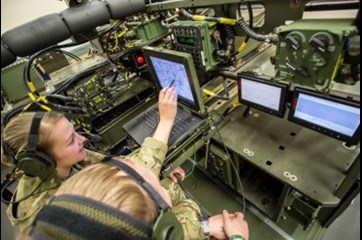 Drumgrange has extensive experience in the creation and delivery of training solutions for operators, maintainers and industrial partners. Some include:
Training Needs Analysis (TNA)
Computer Based Training (CBT) solutions
Wider bespoke emulation capability
Provision of operators, maintainers and Train-the-Trainer courses
Development of custom training facilities and training sets
Drumgrange has developed a range of Communication Simulation Training Solutions used for testing, demonstration and training on military radios within the 1MHz to 2.5 GHz frequency range. Typical applications include Armed Forces Training Schools and radio manufacturers' test facilities.
The products are scalable from a minimum 4 ports to maximum 17 ports attenuation matrix used in a collective training solution. The attenuation matrix replaces a live RF environment with physical links controlled by PC software. The attenuation levels between the individual radios are updated either automatically or manually depending on the scenario and simulation of relevant degradation of the signal due to factors such as terrain types and range.
Drumgrange can provide a highly versatile, bespoke communications training solution that allows for safe RF training in live and virtual environments up to 2.5 GHz.  
From its use in labs by radio manufactures for early product development and testing through to its application as an advanced end user training tool, typical applications include:
1) Test & Development
    Allows radio manufactures to test their radios in both a lab environment and in the field
2) Demonstration
    Allows radio manufactures and users to demonstrate and trial radio capabilities in a safe RF environment in the lab or in the field
3) Training
    Allows the integration of live radio assets onto a representative platform, creating a training aid that also provides connectivity to others to create a
    collective training environment controlled through one instructor PC
However it is used, the Drumgrange ComSim family of products in the radio frequency training solution of choice from in-house development and evaluation to customer demonstration and user terrain and tactical training in a safe and realistic environment.
To find out more about our RF Training and Simulation System products please go to the ComSim product page.
Please download our datasheets for more information, including technical specifications.
If you have any other questions, please contact us at info@drumgrange.com.