Communication and Information Systems
Drumgrange's Communication and Information Systems experts provide consultancy, design, development, manufacture and integration services for rugged, deployable and fully accredited to IL5 Information Systems that can include specific software applications for Special Forces, Land and Naval requirements. Customers are both from the MOD Direct and through UK Primes.
Drumgrange has built and supports a varied portfolio of projects for the MoD. These vary from the current Airfield Radio (VVLP) in use with the RAF to major Information Technology Systems accredited to IL5. These systems are designed to meet exacting requirements and include full TNA and development of Train-the-Trainer and System Engineer Courses. Accreditation of the systems is supported by our in-house capability and the team is fully conversant with the latest security standards.
Drumgrange has a particular expertise in rugged deployable systems and our equipment has been used and supported across the globe. Some examples include:
Deployable Video, Audio Recording and Analysis System
Deployable rugged IT networked system with Satellite connectivity
Radio and Telephone Monitoring System
Mine Warfare Analysis System in deployable configuration
Security Accreditation and development of Sy Ops for NBC analysis
TACISDN and a variety of Test Tools for the Land Systems Reference Centre
Very Very Low Power (VVLP) VHF/UHF radio
Communications Control System for British Forces Cyprus
UK Fixed Bearers and Protocol Conversion for Ptarmigan
Path Profile Tool as an Android App
Additionally, Drumgrange has worked with a variety of communications and information systems, including:
Information Operations Systems
Tactical and Intelligence Support Systems - capture, collate &story, disseminate
Secure Military Network and Computer Systems - Expeditionary server applications, Secure deployable servers (e.g. Deployed CIS)
Deployed CIS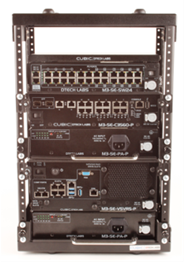 The Deployed CIS solution is a standalone system that comprises of two independent sub-systems:
Virtual Local Area Network Information System (VLAN IS)
Long Range Communications (LRC) System
The VLAN IS provides a means to collate, process and store up to 80TB of information accredited to IL5. The rugged small form-factor design and high performance of the system allows organisations to extend the enterprise to the extreme tactical edge, standing up powerful, highly mobile data centres in even the most hostile environments.
The LRC System is a commercial "walk-on fit" providing Beyond Line of Sight (BLOS) secure voice and data communications for the collection and dissemination of data globally using the world's smallest Class 1 BGAN terminal.
DC Power Distribution Unit
The DC Power Distribution Unit (PDU) distributes a single source DC supply to connect up to 17 devices.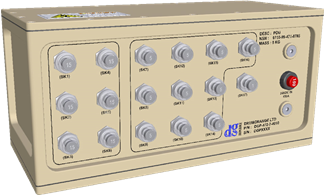 The device is designed to meet rigorous requirements of Def Stan 61-5 Part 6 Issue 6 and provides voltage surge, over-current and reverse polarity protection for all outputs as well as attenuation of conducted emissions above 1MHz.
Please download our datasheets for more information, including technical specifications.
If you have any other questions, please contact us at info@drumgrange.com.