SSAFA Drumgrange Charity Walk
June 2021
On Saturday 26th June 2021, 16 Drumgrange employees, family and friends took part in the 10-mile challenge to raise money in support of the SSAFA, the Armed Forces charity, during the UK Armed Forces week. Drumgrange is excited to announce that we have raised £3,175.00 to date. It was a brilliant event to be involved with, and we would like to thank everyone who supported the charity walk. 
Since 1885, the Armed Forces charity has been providing lifelong support to the Armed Forces community, from Second World War veterans to those who have served in more recent conflicts as well as their families.
13 members of the Drumgrange Team participated in the physical event that took place in London. Starting at the Tower Bridge, the 10-mile trek crossed 13 bridges and finished at the Royal Hospital Chelsea. At each bridge, we had the opportunity to engage with Reservist units, from whom we learnt more about the unit's role and activities.
| | | |
| --- | --- | --- |
| The Starting Line |   | Bridge Number 3 |
| | | |
| --- | --- | --- |
| London Regiment Infantry for London |   | The Finishing Line |
To get as many people involved as possible, there was an option to complete the challenge virtually, allowing people who could not travel to London to complete the walk in their local area. 3 members of the Drumgrange team completed the 10-mile trek across the Jurassic Coast in Dorset to help raise money for the SSAFA.
| | | |
| --- | --- | --- |
| Jurassic Coast Path  |   | On Route |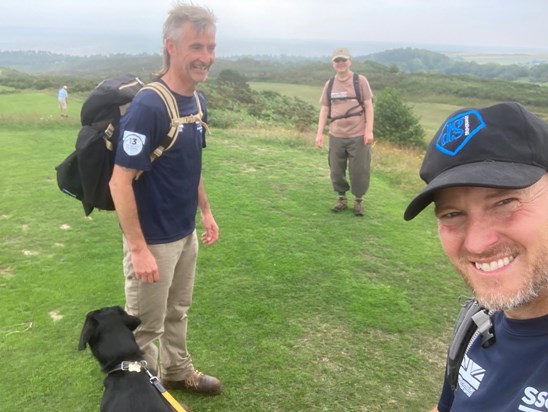 Team Photo
Click here to view the video journey of the SSAFA Drumgrange charity walk. If you would like to support this great cause, please click https://ssafa.enthuse.com/pf/drumgrange.
To find out more about the SSAFA and the fantastic work they do, please click SSAFA, the Armed Forces charity.
About the Company:
Drumgrange is a thriving independent UK systems engineering house with a proven track record for the rapid realisation of demanding defence industry design tasks combined with high quality manufacturing. Drumgrange is expert in the integration of existing technology to create successful, cost effective solutions and is backed by the full range of in-house support services. In addition, Drumgrange supplies an expanding range of UK quality specialised off the shelf products to worldwide commercial and defence markets. Drumgrange products are in service with the UK Armed Forces at home and overseas, NATO forces and Foreign Militaries.
If you require any additional information, please do not hesitate to contact us at info@drumgrange.com or 01932 581100.