Mercury Radios Press Release
November 2017
Drumgrange and Elbit Systems, UK MoD Mercury Radio Programme has succesfully achieved Full Operating Capability.
Drumgrange Ltd. Is pleased to announce that the Mercury Radio System used by the Army Cadet Force (ACF) has been declared in-service and delivered through the UK MoD, BATCIS Delivery Team.
Drumgrange and Elbit Systems delivered 2,452 enhanced PRC 710 VHF handheld radios, 418 PRC 715 VHF Amplifier sets and 150 PRC 720 HF man pack radios along with Battery charging and ancillary equipment to the Army Cadet Force enabling practical Signals training for 12-18 year old Cadets and Command and Control capability for Adult Volunteers.
With 41,000 cadets and 9,500 adults volunteers in over 1,600 locations throughout the UK, the ACF is one of the country's largest voluntary youth organizations. The £7.3 million contract, will deliver a comprehensive solution designed to provide military style radio equipment for the next 10 years. An initial support package is being provided through the General Dynamics Mission Systems LSSP contract.
 George Howe, Managing Director of Drumgrange, commented:
"Alongside Elbit Systems, we are delighted to be able to provide the Army cadet Force with a communications solution that will not only allow them to train effectively but also provide a key safety communications network for support on exercises and other cadet activities. In Providing new and cutting-edge equipment, we hope it helps to inspire young people within the unique 'life' learning environment of the Cadets".
Elbit Systems manufactured and supplied the PRC 710 VHF Handheld Radio, including PRC 715 Amplifiers, and the PRC 720 MICOM Pathfinder HF Radios. Whilst both VHF and HF models have been sold in large numbers worldwide, specific enhancements were implemented for this programme. For examples, the RF output power of the radios was limited to protect both the Cadets and Adult Volunteers.
Martin Fausset, CEO Elbit Systems UK, added:
"We are delighted to be able to work in partnership with Drumgrange in delivering in delivering these high-performance radios at pace, to meet the aggressive timescales of the programme. It reflects our agility value for money and partnering skills. We are also pleased to become a new radio supplier to the UK MoD with our PRC 710 VHF and MICOM Pathfinder HF Radios, providing such a valuable capability for the UK Army Cadet Force".
Brigadier Spencer, Head of BATCIS Delivery Team also commented:
"The Cadets are strategically imported in order to develop young people and increase awareness and understanding of the Army's role across society, to do this we must deliver a rewarding, safe and cost effective Army themed cadet experience. Signals training has been an authorised activity in the Army Cadets since 1943; the delivery of the Mercury radio capability provides an assured, independent communications capability to be used in the UK on defence training areas and wider to provide extensive practical training which will enable Cadets to practice signally skills, giving them a realistic experience of low-level military tactics. Exposure to signals syllabus develops the Science Technology Engineering and Mathematics (STEM) skills of cadets and adds to the rounded development of the cadets as individuals and as good citizens which underpins their retention in the Cadet Forces to the maximum age. This capability will also enable adult volunteers to discharge their duty of care to Cadets by providing them with the ability to manage field exercises and keep the Cadets safe. The delivery of this capability to exacting time, cost and performance parameters is a real success story and I am delighted to see the radios now in the hands of both the Cadets and the adult volunteers".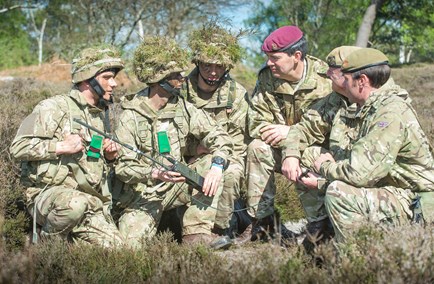 MERCURY PRC 710 Handheld VHF Radio
About the Company:
Drumgrange is a thriving independent UK systems engineering house with a proven track record for the rapid realisation of demanding defence industry design tasks combined with high quality manufacturing. Drumgrange is expert in the integration of existing technology to create successful, cost effective solutions and is backed by the full range of in house support services. In addition, Drumgrange supplies an expanding range of UK quality specialised off the shelf products to worldwide commercial and defence markets. Drumgrange products are in service with the UK Armed Forces at home and overseas, NATO forces and Foreign Militaries.
If you require any additional information, please do not hesitate to contact us at info@drumgrange.com or 01932 581100.