Drumgrange and Cubic Missions & Performance Solutions: A Customer Story
March 2021
I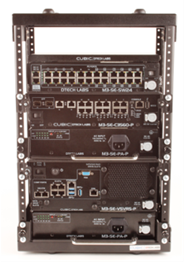 n 2017 Drumgrange received an Invitation to Tender (ITT) from the UK Ministry of Defence (MoD) to create a "rugged networking and computing platform to replace an existing 19" rack solution".
For over two years, Drumgrange collaborated closely with Cubic Mission & Performance Solutions to overcome project challenges whilst delivering a solution that met the technical requirements set by the customer. The final solution created the M3-SE-SKIT networking and compute platform, "that increased operational performance and reduced transportation costs to the UK MoD" during Spring 2019.
In the article, Sean O'Pray, Project Manager, commented:
"The M3-SE-SKIT provides major advantages and clear benefits over the legacy 19" rack-based equipment. Greater flexibility, modularity, and enhanced system performance, the M3-SE-SKIT allows smaller, specialised teams to rapidly deploy with less environmental impact."
Read the full Customer Story article here to download more details about the project.
 If you require any additional information, please read the Communication Information Systems (CIS) page or contact us at info@drumgrange.com.

About Cubic Mission & Performance Solutions
Cubic is a technology-driven, market-leading global provider of innovative, mission-critical solutions that reduce congestion and increase operational effectiveness and readiness through superior situational understanding.