Drumgrange: A Proud Company featured in Her Majesty The Queen: The Official Platinum Jubilee Pageant Commemorative Album
March 2022
The only official book published for the Platinum Jubilee Pageant, Her Majesty The Queen: The Official Platinum Jubilee Pageant Commemorative Album will be launched on Sunday 5th June 2022 as part of the United Kingdom's unique four-day bank holiday weekend of jubilee celebrations of the Queen's extraordinary 70-year reign.
Published by St James' House, this beautiful hardback publication features more than 250 photographs of her Majesty throughout her life, the book shows the triumphs of the Queen's 70 years on the throne and explores her leadership from during the Second World War to her unifying influence during our turbulent times.
Drumgrange is one of the select number of outstanding individuals and organisations from across the country and the Commonwealth to feature in the Platinum Jubilee Commemorative Album. It showcases how the company's products and capabilities across both the maritime and land domains support the defence industry today and how Drumgrange is continuing to expand for the future.
Her Majesty The Queen: The Official Platinum Jubilee Pageant Commemorative Album is available to order at www.stjamess.org/shop.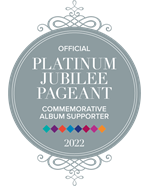 About the Company:
Drumgrange is a thriving independent UK defence contractor with a proven track record for the rapid realisation of demanding defence industry design tasks combined with high quality manufacturing. As a systems engineering house, Drumgrange is an expert in the integration of existing technology to create successful, cost effective solutions and is backed by the full range of in-house support services. In addition, Drumgrange supplies an expanding range of UK quality specialised off the shelf products to worldwide commercial and defence markets. Drumgrange products are in service with the UK Armed Forces at home and overseas, NATO forces and Foreign Militaries.
If you require any additional information, please do not hesitate to contact us at info@drumgrange.com or 01932 581100.